Consentino Charger Cheerleaders competed in two competitions over the weekend at Wilmington High School and Central Catholic High School. Our phenomenal Charger Cheerleaders took home the 1st Place win for the Middle School Division in Wilmington and 3rd Place along with the Spirit Award at Central Catholic. Our girls and their coaches did an outstanding job at the competitions and over the course of the season. We're excited to see their performances next year!
Congratulations on a great season, girls! We couldn't be more proud!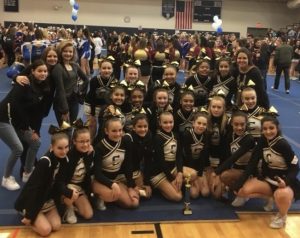 Consentino Charger Cheerleaders under the direction of Mrs. Kristen Gallagher, Assistant Coach Rylee Clemmey, and Team Mom Mrs. Candance Clemmey.
2017-2018 Team
Devin Bailey
Hailee Murphy
Monique Jennings
Charlyse Comeau
Saige Cullen
Genesis Fernandez
Arilynn Rojas
Marisela Quinones
Makenzy Mimms
Samantha Mercedes
Devan Judson
Laney Santomassino
Hadassha Wilkins
Jalyn Hogan
Bella Ross
Asyah Mensah
Riley Whelan
Caroline Madden
Amber Silverio
Amber Paolucci